Oona is currently on vacation. Any orders placed between June 7th - 21st will not be shipped or ready for pickup before June 23rd.
Thank you for your patience!
I have something to say...
It is just happening at the pace of life being lived. Amidst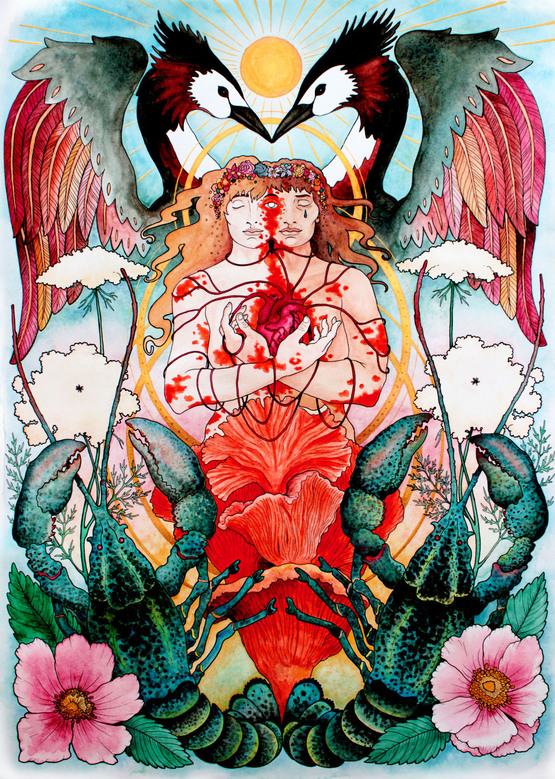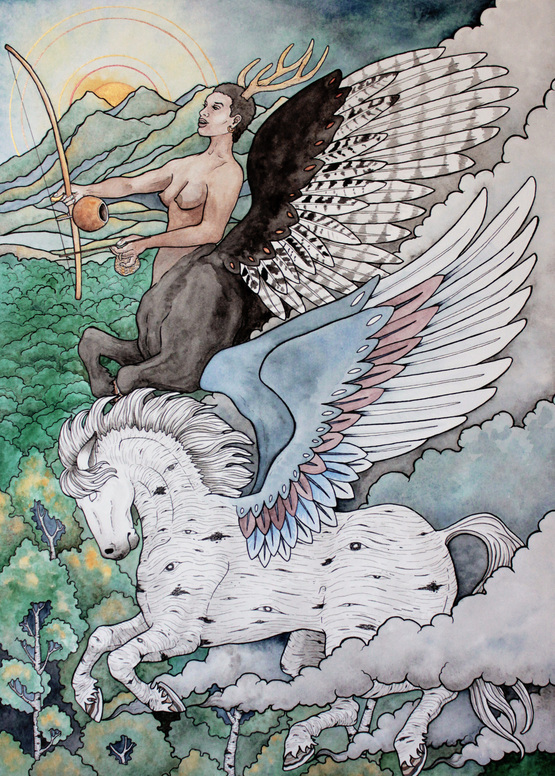 Now completed are Symbiosis (The Lovers) and Migration (The Chariot), infused with real love and real people!
Symbiosis could well be name Interdependence; all about harmony, unions, and choice. While Lobster Mushroom is technically a parasite, its symbolism lies in its transformative powers to create something new from what was once something entirely different.
Migration shows a dear friend, Zey, as a steed pursuing their goals and riding with confidence toward them, with smokin' hot tinder conk hooves, playing the tunes of freedom with berimbau in hand!
I am ever so excited to be weaving real life into fantastic, symbolic imagery. Seeing this deck unfold is the stuff of dreams.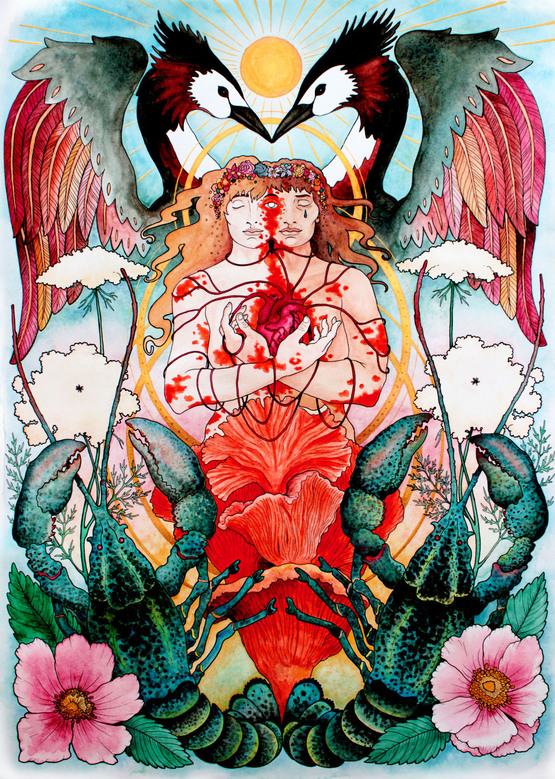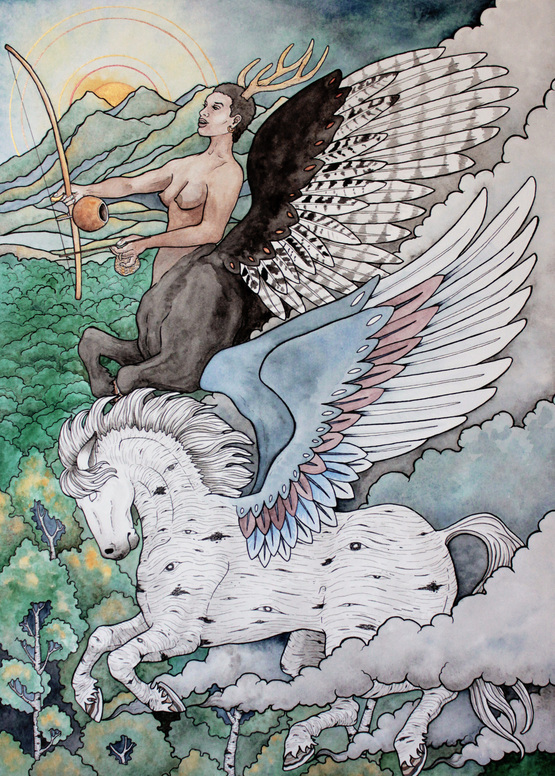 The First Card is Complete!
This is SACRED, fungal ally of Truffle, quietitude and hidden treasure, a safe space of reflection and emanation, the inner knowing that mutually benefits everything.
While I am not going in order, this card seemed like the best place to begin a journey of deep committment to crafting symbols for a big undertaking and hopefully can watch over me in the process.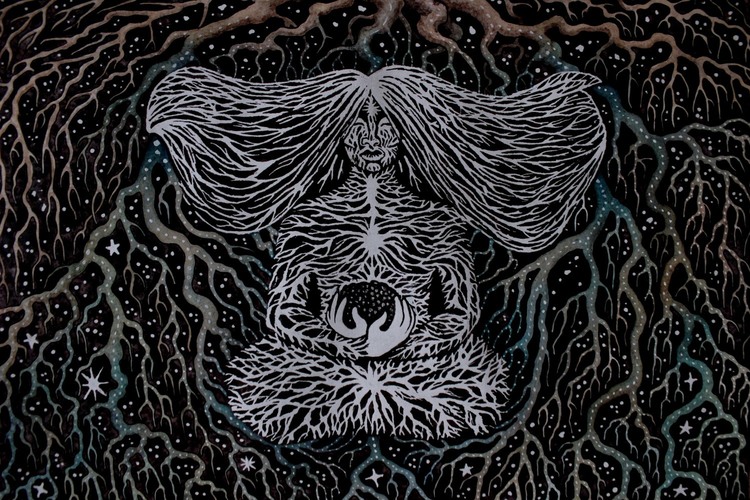 The PHOENIX will RISE AGAIN!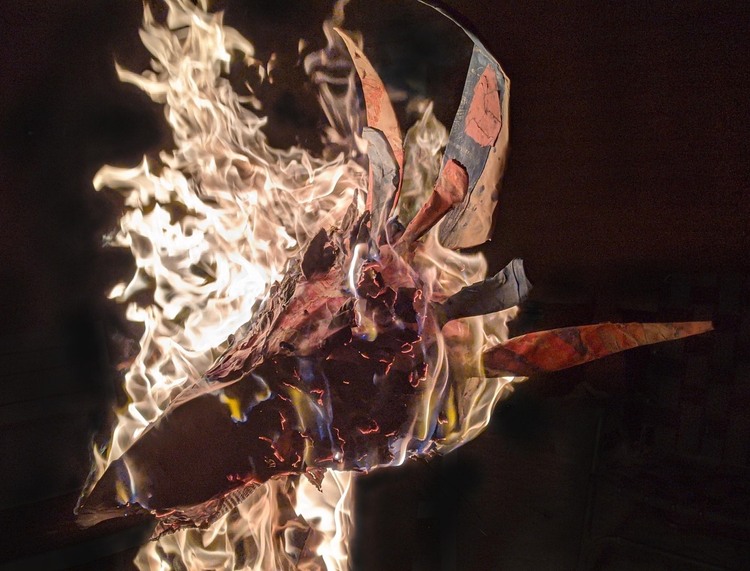 Went ahead and had a bonfire with some loved ones before departing out west and ceremonially put the phoenix head in there as an effigy for all in attendence to shed away whatever needed slophing off to make room for growth and rebirth.
Here's to a new year and fresh compost!
Wins All Three Quest Awards!
This award was the work of the whole group, but expecially our grant writer, Eliza Van Dyk! We're so very excited to use these funds to grow the MMC's outreach, pay ourselves a living wage, and grow the magic at the moonstead!
Many thanks to everyone that voted, we deeply appreciate it!
The Second New Moon Mycology Summit Taking Place in Thurman, NY 2019
While I couldn't attend the first ever New Moon Mycology Summit of 2018 last year, I'm excited to say that I'll be headed there this time around!
The Mycelium Underground is doing really important and interesting work! I was very honored that they accepted my offer to illustrate a design for this year's event. I've copied straight from their website some key details to satiate your curiosity and pique your interest!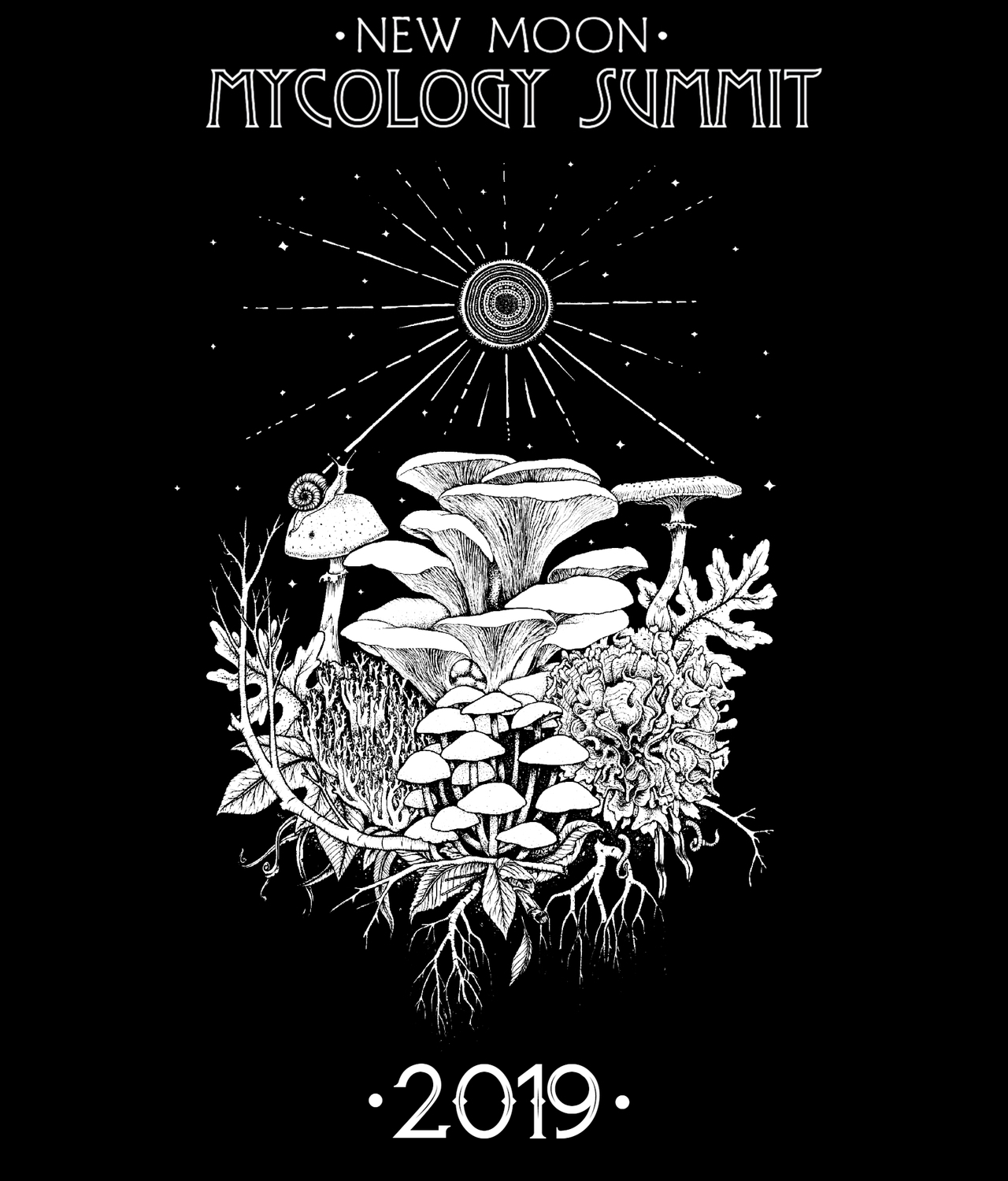 We are part of the greater ancestral cycles of the planet.  Honoring and tuning into the moon cycles remind us of our true natural past.  The darkness of the new moon represents a time of beginnings, unformed potential, and mystery. We honor the unknown future that can arise from the seeds we plant during this fortuitous time. With our hearts in the dark phase of the moon, and our bodies connected to the Earth, we seek the inclusion of womxn and the eventual dismantling of the fearful patriarchal hold on our world at large, calling forth inclusive iterations of mycology, the sciences, environmental justice, & more.
WHAT IS THE NEW MOON MYCOLOGY SUMMIT?
The New Moon Mycology Summit connects varied disciplines and experiences that go beyond the Fungal Queendom
MYCOLOGY - SOCIAL JUSTICE - EARTH SKILLS
Fungi & their network of cells, called mycelium, do many tasks.  They decompose organic matter into building blocks of life. They are responsible for distributing resources and hidden nutrients in soil, that only they can access, to other locations for plants to use. Like mycelium, reaching to finite corners of its environment, to nourish & expand its network, this summit will make those same significant connections within the community at large.
We structured this week as if we were mycelium, those intelligent cells, running in a decentralized & efficient fashion. Through substrate both nourishing and toxin remediation.  Working together, communicating, and building more resilient pathways and systems in order to achieve sustainable & just results. Feeding, sharing and connecting. Recomposing disequilibrium in the ecosystem.  Mycelium makes connections between multitudes of species, through terrains of all kinds, structuring biological networks that underlie everything. We want to emulate their mode of being in service of creating new life.
That is why this isn't just a mushroom gathering, but rather multidisciplinary summit. We are inspired by the integrative, collaborative role of the fungi to bring together people from all fields and walks of life, and recognize that it is our uniqueness as individuals that will allow us to overcome and integrate the challenges that lie in our human path.  Mycology reminds us that there are balanced systems in place beyond the mycelial network, thus opening the stage for more topics and discussions to be a part of this weekend. We want to make a space so that voices, and skills, from the fringes are heard and honored.
We, within the Mycelium Underground have taken this to heart.  We desire to support new, grassroots, restorative forms of science, justice & community within a collapsing system of paradigms in the crisis of the Anthropocene.
Fruiting Bodies Tea and Tarot Tent

Public Group Myco themed art project
Fungi + Ecology Classes for Kids
Because we want to make this event accessible to all folks. Please know that when you register & offer this contribution, it goes towards covering honorariums for the people opening up their time to travel & energy to teach everyone during the Summit. Funds from registration help cover costs of food, kitchen crew, set-up, cleaning and more to help birth this amazing community event. We can't keep this going without your contribution, so please offer what you can.
To stay up to date or learn more, head on over to their website at:
Fruiting Bodies Major Arcana Tarot Deck Collaboration
In collaboration with Erika 'Rikki' Longino of
The Mobile Moon Coop
in SLC, UT, a dream is finally coming true!
For quite some time I've longed to create a tarot deck, but for some reason just couldn't. Little did I know that my lone wolf creating days would not be the nature of this venture: for I needed a co-conspirator!
Rikki is a master wordsmith, and will be crafting the descriptions for each Major Arcana card, while I illustrate the pictures. Together we hope to create something wonderful.
Read on for a description of the deck-in-progress and how you can get a piece of it.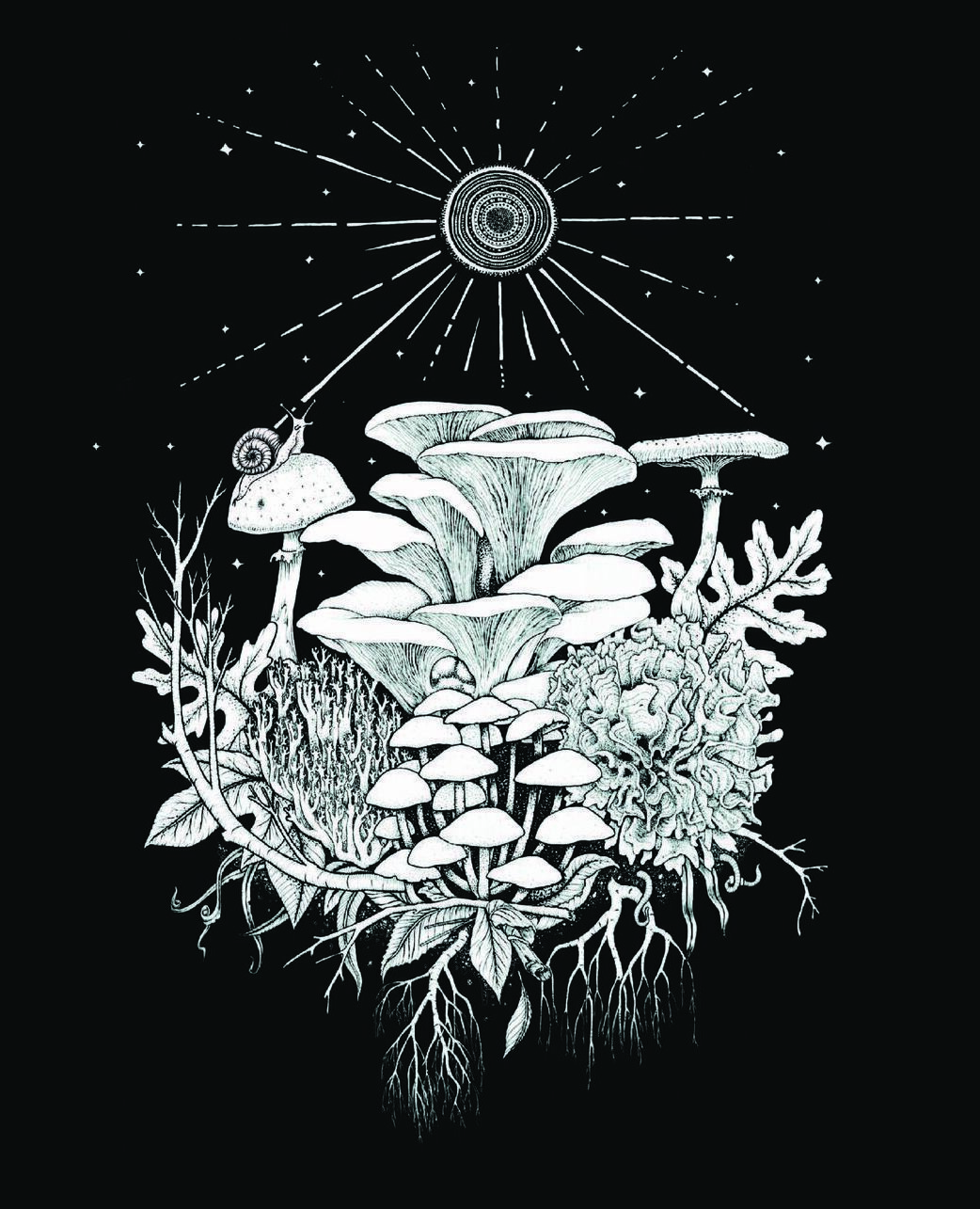 Fruiting
Bodies
Tarot
 is a collection of 22 evocative images and vivid descriptions depicting the tarot's Major Arcana. From The Fool to The World, 
Fruiting
Bodies
functions as a practical aid to discovering your own purpose in this vast and swiftly changing world. The deck emphasizes an imaginative return to ecological relationship and an interconnected subterranean network of life. Much like the multi-layered and sometimes dark nature of the world's underground, we have a subconscious life that requires healthy exploration. New choices and trajectories in our lives take place because of what  happens below the surface. The name, 
Fruiting
Bodies
, comes from the spore-producing organ of fungi, who's mycorrhizal "root" system spreads for miles underground and connects the forest. ​This deck offers hypnogogic imagery and detailed descriptions relating to intersectional feminism, cyclical nature, lunar consciousness, practical permaculture, and mycology as tools for systematic wellness. 
This deck is in progress! We will be crafting it over the course of the next year, aiming to deliver by Spring 2021. Your contributions go towards supporting the artists through their journey!
You can head over to the
SHOP
if you're interested in purchasing a deck at the presale price.
The Not-Forgotten Wishes of the
Part of my 2017 Fool Moon piece, The Dream Machine, had participants submit a doodle, wish, dream, idea, question, or what-have-you as currency in exchange for a small paper fortune. While my original post for the Dream Machine in the Installations page mentioned this, it did not show any sign of what the community desired in their heart of hearts.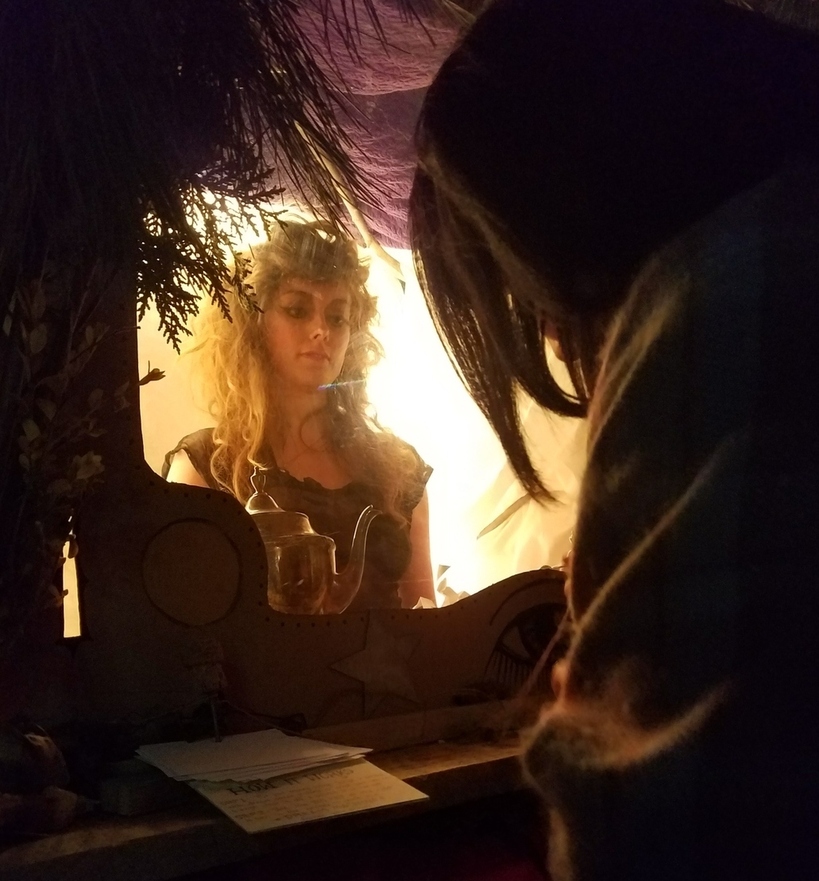 Due to a not-so-infrequent habit of moving too often, this part of the piece was left in a big ol' bag in a dusty corner with whispered promises that one day they would have their time in the light.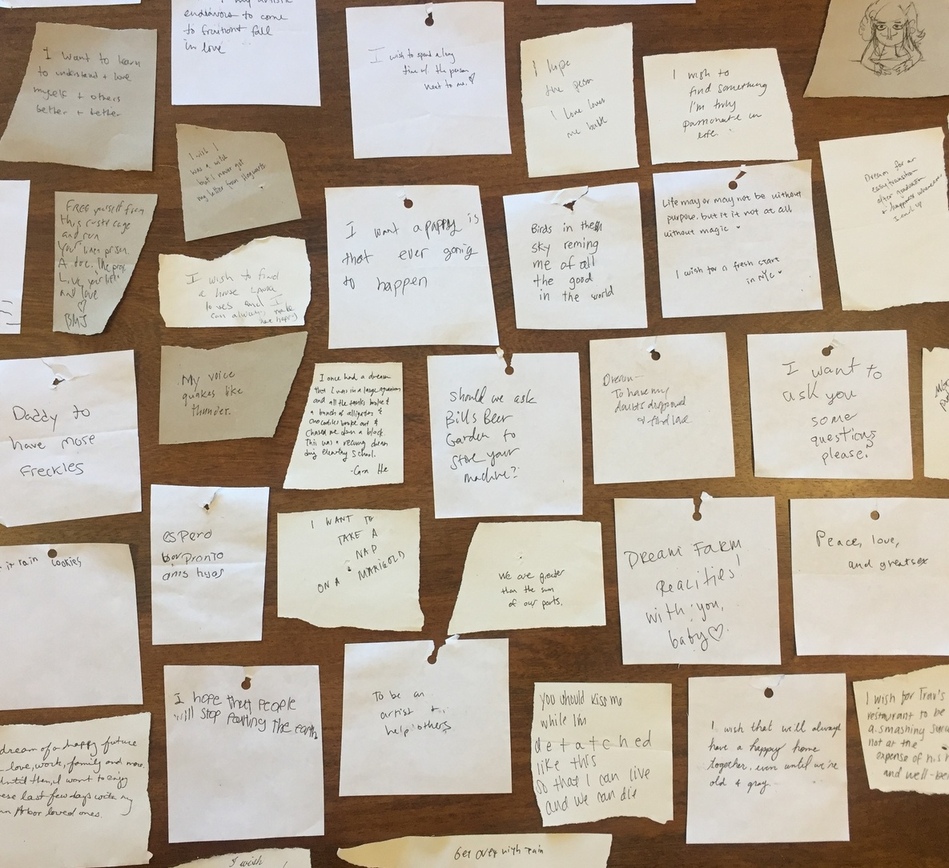 This side of my pieces is perhaps my most cherished part. Certainly, as the artist, I enjoy making the vehicle that brings about a piece, but the real thrill of public art is the final ingredient to this potion: the participation of the audience itself.
Perhaps a tree falling in the forest makes a noise whether or not anyone is there to hear it, but what is public performance without the audience?
In the event that it is easier to view the submissions typed out, here is a list of the ones I can decipher:
I want to have a dream about going to a planet

I wish for peace and prosperity in a career for the animated art of stop motion or similar bend

I wish to light up the room like the guy behind us

I wish for Christian to like me back

I wish for my friends and family to be happy and healthy. For those looking for opportunity to achieve their dreams and for thm all to see their dreams come true

Move out of my parents place -Get better job

A magic story where time is immaterial

for everyone to love each other no matter their flaws

I hope I continue to love for a long time - I'd understand if something happened outside of my control & just want to not be the one to cut myself short. I hope in that time, it's not just time spent - It's time lived.

I wish I was a witch but I never got my letter from Hogwarts.

I hope to advance the field of science

Life may or may not be without purpose, but it is not at all without magic <3 I wish for a fresh start in NYC <3

Trump and his entire administration get deported to the sun!

I want a world without fear - I want to make a world without fear and all bad things.

I want my artistic endeavors to come to fruition and fall in love

Doin' my best, hopin' for the rest!

If only I knew what to do with my life <3

That my brother survives his cancer for 4 more years.

Wish: Painless labor...SOON!

I want to learn to understand + love myself + others better + better

I wish to spend a long time with the person next to me. <3

I hope that my female relationships continue to allow me to challenge my femininity

I wish to find a house Laura loves and I can always make her happy

My voice quakes like thunder.

Age looking back at his youth We had so little yet we had so much Thunder and Lightning at the lightest touch.

I wish to make Stephanie happy! My dad to accept me & to be a good doctor!

Discover all that Life has to offer, but don't lose your way back home xoxo

Love all, harm none, understand as much as possible.

Dream for an easy transition after graduation + happiness wherever I end up

I wish to find something I'm truly passionate in life.

Dream Farm realities! with you, baby <3

I would like to build limbs

hope the boy that has ghosted me has a good reason, I could use a win.

My wish is that monster cupcake doesn't get eaten

Will I go bald in the next 5 years?

I want to ask you some questions please?

Peace, love, and great sex

Dream- To have my doubts disproved & find love

I once had a dream that I was in a large aquarium and all the tanks broke & a bunch of alligators & crocodiles broke out & chased me down a block. This was a recurring dream during elementary school. -Carn He (?)

I wish to be friends with you :)

To be an artist & help others

I WANT TO TAKE A NAP ON A MARIGOLD

I dream of a happy future in love, work, family and more. Until then, I want to enjoy these last few days with my Ann Arbor loved ones.

I hope the person I love loves me back

To have a happy family with kids who aren't monsters

Birds in the sky reming (remind?) me of all the good in the world

I want a pappy (puppy?) is that ever going to happen

Free yourself from this rusty cage and run. Your linen prison. A doe. The prey. Live your life and love <3 BMJ

Will I ever have a pygmy goat? <3

Will Kendall let me have a pet pig?

Let's go for world peace & social justice!

Daddy to have more freckles

We are greater than the sum of out parts.

I wish for Trav's restaurant to be a smashing success, but not at the expense of his health and well-being

I hope that people will stop polluting the earth.

I wish that we'll always have a happy home together, even until we're old and gray.

You should kiss me while I'm d e t a c h e d like this so that I can live and we can die

I wish to always exceed my expectations

Espero ver pronto a mis hijas

I wish to find love and happiness after my divorce.

I already have my dream <3

My dream is to make people have the same amount of money. <3

It's really cool what you're doing. Keep it up.

I wish to meet Beyonce, Ariana Grande, and have happiness & do what I love 4 my hole life

"Stars can't shine without darkness"

I want to be a doctor and make a difference!

I wish for peace & sanity for myself & my patients

I hope that I can have the strength to move to a foreign country!

I wish for happiness for my children. <3<3<3<3<3<3 :)

Peace, love and good beer

Wealth, True romantic love and self-love, and serenity <3

My man is healthy & me too + we love each other

wish for true love to happen

I wish I had a miloin bucks

Cheers to new beginnings and fine endings

I wish and dream to attend grad school @ U of M :)

I wish my marriage would be more peaceful & long!!

I wish my loved ones happiness & health

I would like contentment 4 LYFE

I wish my dad could invent a rescue bot -COLE

Have the family and friends together

My daughter gets to go on a rocket

Learn to love and be loved

Danielle will find a new job she loves

I wish for a purple sky tonight and love all around <3

A nice home for my family in Detroit to some safer community

I wish for all children to have happiness and creativity to flourish

To Find A Partner to Share My Life With!

I wish that we find what we are looking for. Thank you for being here.

I wish for my son and my daughter to find happiness

I wish my business will take off + be extremely successful!! And my kids will behave!
I love when grandma visits

FIND ME A PRETTY GF LIKE YOU

I hope things work out well

I wish that all cats be happy

I wish that I will get a phone by time I'm 11

I hope to meet the man of my life!!

I wish to pass all my classes and find love

Honest friends, good year

I wish for the people I love to be okay. Good, Elen

I wish to find a well paying job that I love!

Good employees for biz growth

I wish Lrrn would live in MI forever

I wish I hav a horse and I have the most nollig in the wold

I would like to know what to do with our soul (?)

I have and am thankful for my friends & family

I wish for a fulfilling life

fulfilling life w/ family + friends

I wish for a long happy marriage

Complete + total happiness, serenity, contentness. <3

I want to travel for 5 yrs

to get all the lego in the world

will I be rich and famous in the future

publication + many readers

no more cancer & happiness

Eat more sweet stuff w/out getting fat af + 4.0 GPA

I wish I will have tons of luck in trail to the victors

My dream is that policies will reflect actual/absolute acceptance

I wish I had my girlfriend forever.

May all beings be safe. May all beings be healthy. May all beings be happy. May all beings live with ease.

Dreams coming true love and successful self employment :)

I wish to be at peace all the time & a someone would be nice

I wish to live out all my life's dreams and live happily <3

I wish that I will live by the ocean when I'm older

To figure out what to do career wise school or film?

Travel to China this summer :)

for world peace and kindness

Will I ever have sex with a person?

A Joyous Life With The One I Love :)

If I could continue with school that would cool <3

I want to be a Native American

I wish to find more happiness and be anxiety free in my relationship with my significant other

I wish I could be a doctor when I grow up.

World peace, Health & happiness for my family & friends. LOVE <3

I wish for Grad school in Sydney w/ my friends

I want to win the contest

I wish for world peace...and to be a unicorn!

I hope my family & pets live long healthy lives

David & Val will stay together happily ever after!

I wish for ice cream, whipped cream, sprinkles

I wish I don't have to live Ann Arbor

Wish to travel & form more bonds with others

Happiness generally! for everyone!

I wish to run a business for cosplay, I want to become a world famous Cosplayer and be very successful

I wish I could discover the world's biggest Diamond

I wish there will be world peace.

May you find peace, comfort, and calm <3

I wish/dream for my ultimate job.

Where will I travel this year?

Become a popular & successful musician

To have a nice summer and hope that a certain someone will look my way

To be a super awesome composer

wish for happiness and love health and money

1. Marry this girl (Bianca?) 2. Have a fun stable life

I wish to become successful in my career

Fall in love wou! <3 -Kyle + Dimitry

Will this be my foolish year?

I wish to find true inner peace

I want a trip w/ friends to an amazing place

To always remain passionate about life

Is my life going to continue to be filled with blessings

A good life of longevity and love

I hope Jesse & I's plans all work out

I want Elon Musk to give me a free Tesla Model S. Please?

To be successful in life love & happiness

To go see my best friend again

Having a blast -Summer with my family and girlfriend Jiyun <3

I wish my friends, family, and my love to be happily ever after

I wish I could live forever

I wish things will get better with my family

Good health for all I love.

To make trance music and play it around the world.

I wish for a successful medical career...ONCE my family is back together... <3 :)

Will I become wealthy in $$ and mind/body

1. MCAT 98th percentile, best med school, top doctor 2. Thomas to UMich 3. Mom & Dad -- & proud 4. Me + Tommy w/ -- person -- --

Health, Wealth, & Wisdom :)

I wish for my grandkids to be near me

I wish to grow spiritually & 4 inner/outer peace

I hope to be a Bodhisatvah
REINCARNATE - Gallery + Market
Some pals and I are working on hosting an art installation next week November 9-11th, hosted by Morgan & York. Behind Morgan & York is a wee building that will be transformed for the weekend into a wilted wonderland with local floral designers breathing life back into the decaying world that is autumn for one last hurrah before decomposition.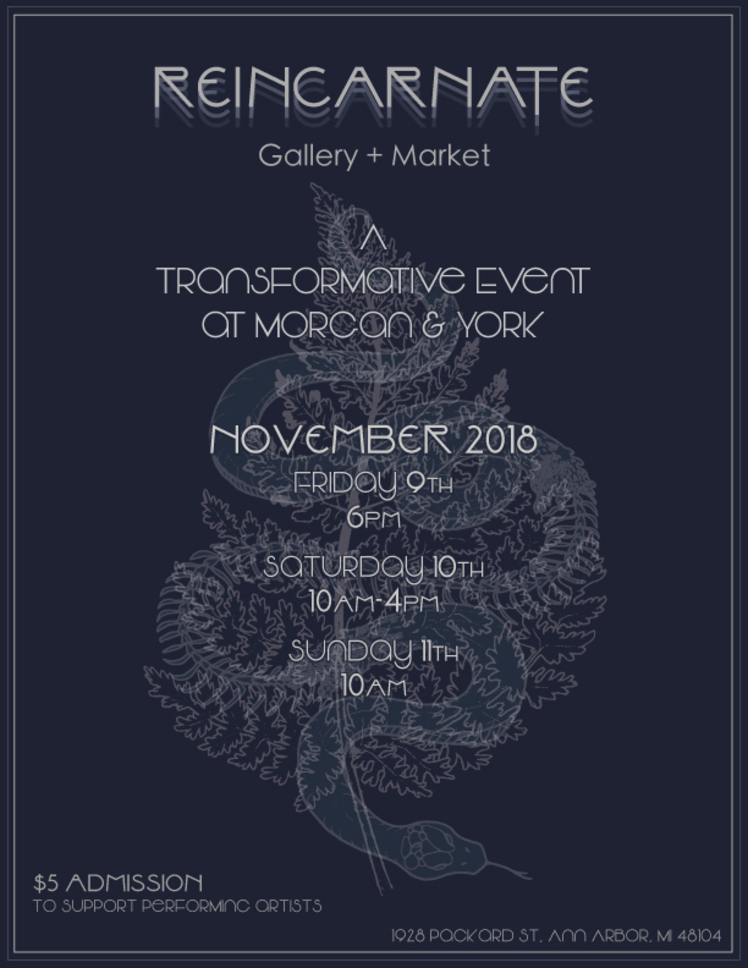 Join us for Reincarnate: Gallery + Market, a Transformative Event at Morgan & York! Celebrate the season of enchanting decay with art, music, and libations. Floral designers from the Ann Arbor and Detroit areas will breathe a second life into the bounty of the fields to create floral installations around the word Reincarnate. Take home treasures from local artists and foragers to kick off holiday shopping in truly unique form. Mingle in a community hub. Ogle the creative magic. The event kicks off Friday 11/9 at 6pm, continues Saturday 11/10 from 10-4, and wraps up with morning yoga on Sunday 11/11 at 10am. Admission of $5 supports the artists.
Live music set to begin around 7pm Friday night with
Kameryn Ogden
and
Galen Bundy
.
For those wanting specifics, here's a list of our designers and vendors set to attend:
Floral Sense | Crystal Butler
Nox Lumen | Brogan Darwin
Welcome Table Vintage | Sarah Shirato
A Second Showing of METANOIA
Riverside Arts Center has kindly agreed to allow
Metanoia
to be presented in their gallery to be a part of November's First Friday art walkabout. It will be up until November 17th, 2018, but with a live show this Friday, November 2nd, 2018 at 6pm, and as a backdrop for a live band from 7pm-10pm.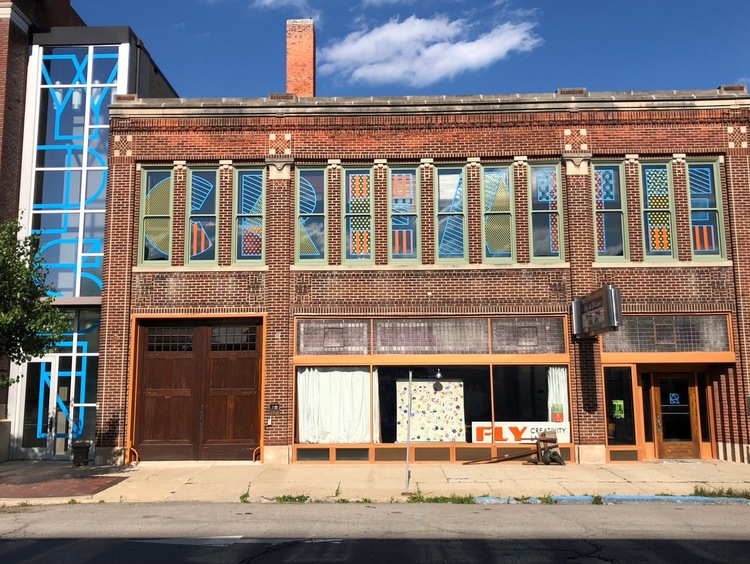 If you missed ypsiGLOW 2018:
Riverside Arts Center is displaying various luminaries and GLOWing artwork to give a second chance to view the splendor in a gallery setting.
Check out the Ypsi First Fridays map here: